The Father
March 15, 2019 @ 7:30 pm - March 31, 2019 @ 10:00 pm
$20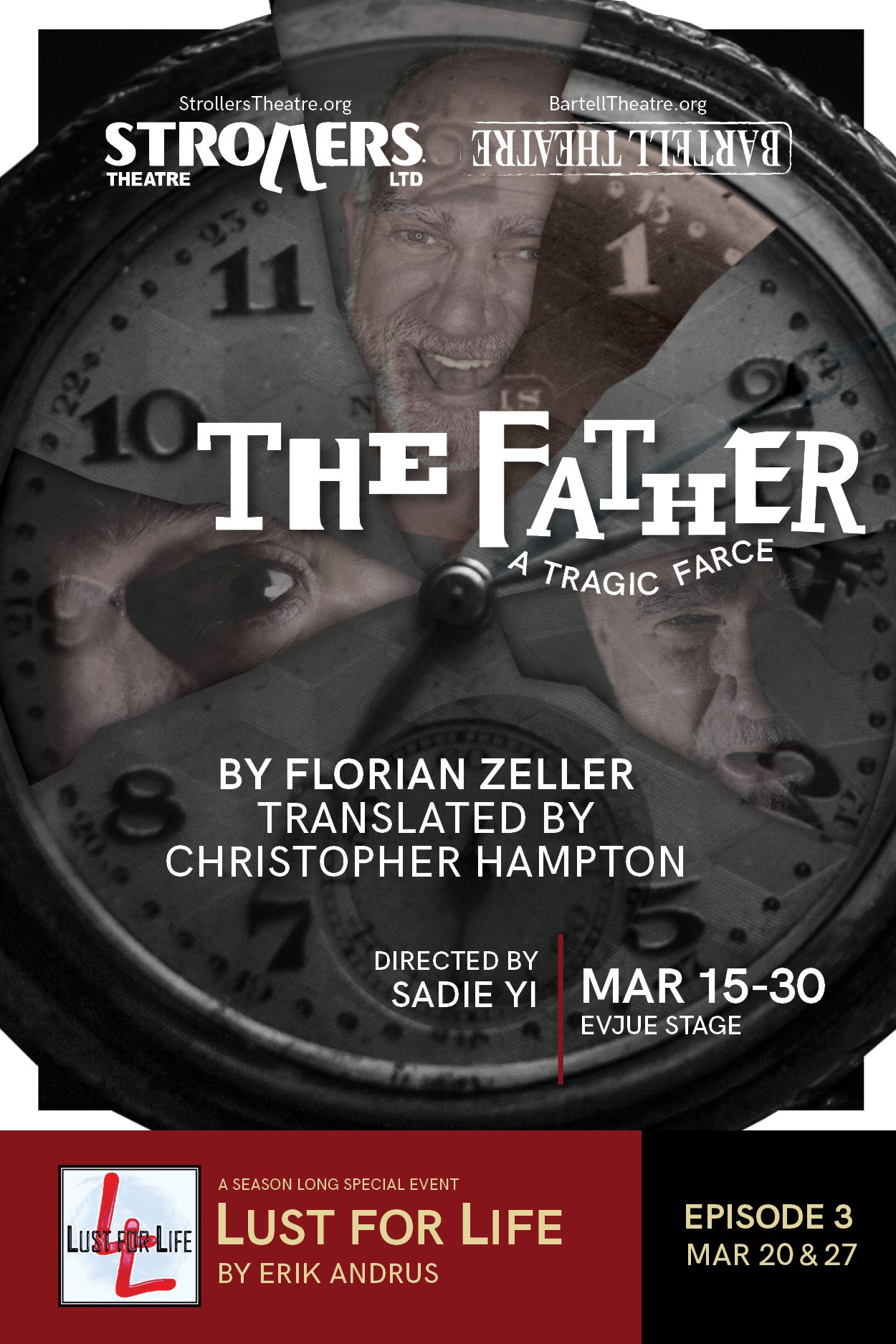 The Father: A Tragic Farce
By Florian Zeller, Translated by Christopher Hampton, Directed by Sadie Yi
Strollers Theatre, LTD. is proud to continue its 62nd season with The Father, winner of the 2014 Molière award for France's best play. The Father – brilliantly told with humor and empathy – treats audiences to a heart-wrenching glimpse into despair from the loss of self.
Andre seems to be having trouble remembering where he placed his watch, as well as his old job – not to mention what his own daughter's face looks like! As Andre slips further into dementia, his daughter Anne struggles to strike a balance between his daily care and her own autonomy.
For dates/times/tickets/details for The Father, please visit bartelltheatre.org/2019/the-father-a-tragic-farce/.
For any questions/comments/concerns, please contact Benjamin Barlow at [email protected]
For more details about Strollers Theatre, visit StrollersTheatre.org.
Dates:
Fri, Mar 15th, 7:30pm
Sat, Mar 16th, 7:30pm
Sun, Mar 17th, 2:00pm
Thu, Mar 21st, 7:30pm
Fri, Mar 22nd, 7:30pm
Sat, Mar 23rd, 7:30pm
Thu, Mar 28th, 7:30pm
Fri, Mar 29th, 7:30pm
Sat, Mar 30th, 2:00pm
Location:
The Bartell Theatre
113 E Mifflin St
Madison, WI 53703
On the Evjue Stage
Contact:
Benjamin Barlow at [email protected] and (608) 354-7034
Bartell Theatre Box Office at (608) 661-9696
Tickets:
General Admission: $20
Discounted tickets for Veterans, Seniors, Students, and Strollers Membership: $15.
https://bartelltheatre.secure.force.com/ticket/#details_a0S1I000000v34mUAA