The Junior League of Madison's Mistletoe Market
November 9, 2017 @ 5:00 pm - 9:00 pm
$5.00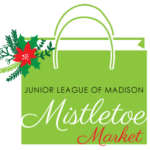 The Junior League of Madison's Mistletoe Market brings dozens of carefully selected merchants from around the region together to provide a one-of-a-kind holiday shopping experience. Your attendance helps the Junior League of Madison fulfill our mission: building a better community by empowering women and children. All proceeds from this event will go directly back to the community, helping to fund our programs supported by the Junior League of Madison.
Join us for this one-night-only event and complete your holiday shopping, enjoy a glass of wine at our cash bar, and support the Madison community.
Tickets
Entry is $5 and tickets may be purchased at the door. Purchase of eight (8) or more tickets may be made in advance by emailing mistletoemarket@juniorleagueofmadison.org.
Vendors this year include:
Boho Metals, LLC
Casual Settings, LLC
Cella's Jewelry
Charmed by Tegan
City Tins
Connie Mills Accessories
Cream City Gifts
Heather Lins Home
Honey & Lace
Hutch + Hide
India Hicks Designs
James Steeno Gallery
Lake Life Candle Company
Little Treasures Dolls
MJ's Designs
Pampered Chef
Pollen Path, LLC
Ron Curran Photography
Selah Vie Soapery
SDT Essential Oils & Company
Tradition Market
The Green Goat
Ubuntu Trade
Wilson Creek Pottery