Book Release Party @ Garver Canvas ( Swan & Conrad)
October 5 @ 7:00 pm - 8:00 pm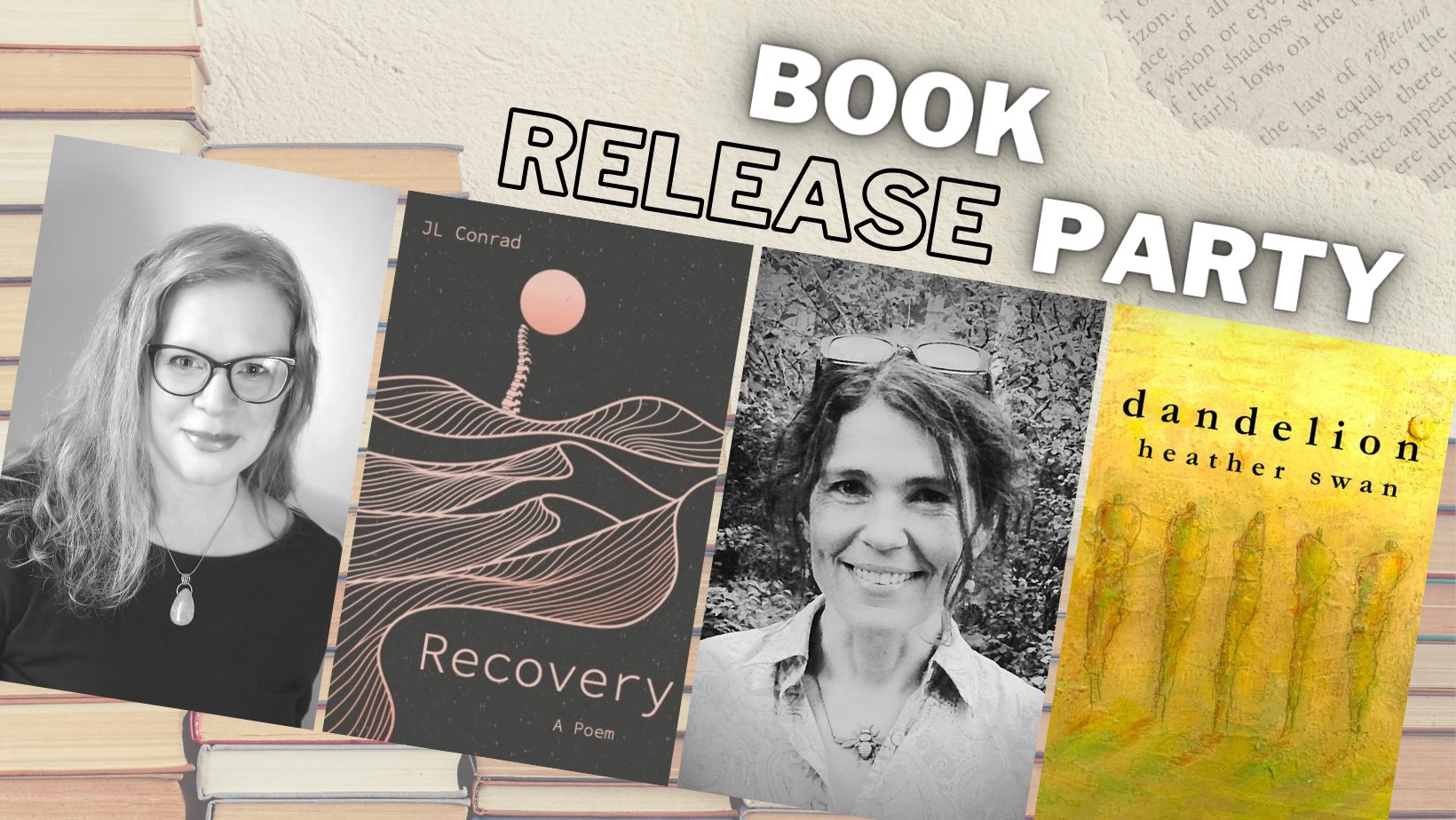 Please join us for a book release party! Come hear poems from J.L. Conrad's new chapbook Recovery and Heather Swan's newest collection Dandelion at Garver Canvas, which is located on the first floor of Garver Feed Mill next to Ledger Coffee. Drinks and snacks available for purchase in the Garver Lounge. Please note, no pizza is allowed in the gallery.
Heather Swan's Dandelion, her second full-length poetry collection, considers the place of the human being among myriad and marvelous nonhuman beings in a historical moment when we are facing climate change and mass extinction. as well as exploring what it means to navigate grief and change in our personal lives. With inspiration drawn from muskrats, Michelangelo, owls, Greek myth, and the story of Noah's ark as well as The Cure and the halls of Walmart, Swan's poems weave together reflections on our human experience in this precarious and precious historical moment.
Heather Swan's poems have appeared in such journals as Terrain, Minding Nature, Poet Lore, Phoebe, The Raleigh Review, The Hopper, Midwestern Gothic and Cold Mountain, and in many anthologies. She is the author of the poetry collection A Kinship with Ash (Terrapin Books), which was a finalist for the ASLE Book Award, and the chapbook The Edge of Damage ( Parallel Press), which won the Wisconsin Chapbook Award. She is also a recipient of an Illinois Arts Council Fellowship, the Maud Weinshenk Award, the August Derleth Prize for Poetry, and an honorable mention for the Lorine Niedecker Award. Her nonfiction has appeared in Aeon, Belt, Catapult, Edge Effects, Emergence, ISLE, Minding Nature, and The Learned Pig. Her book Where Honeybees Thrive: Stories from the Field (Penn State Press) won the Sigurd F. Olson Nature Writing Award. A companion book, Where the Grass Still Sings: Stories of Insects and Interconnection, will be published in spring 2024. She teaches environmental literature and writing in Madison, WI. Dandelion is her second full-length poetry collection.
J. L. Conrad's Recovery (winner of The 2022 Robert Phillips Poetry Chapbook Prize, selected by Taylor Johnson) inhabits a dreamscape filled with fragments of conversation, remembered loved ones, and the profound disorientation that accompanies loss. As Recovery offers a way of moving beyond the self at a time when the only way through is through, its speaker looks not for transcendence but embraces a body marked and wounded, a body trailing ghosts. Conrad is the author of the full-length poetry collections A World in Which (forthcoming in 2024 from Terrapin Books) and A Cartography of Birds (Louisiana State University Press). She is also the author of the chapbook Not If But When (Salt Hill, winner of the third annual Dead Lake Chapbook Prize). Her poems have appeared in Pleiades, Jellyfish, Sugar House Review, and elsewhere.