Arborophilia
February 23, 2018 @ 7:30 pm - March 10, 2018 @ 10:00 pm
$20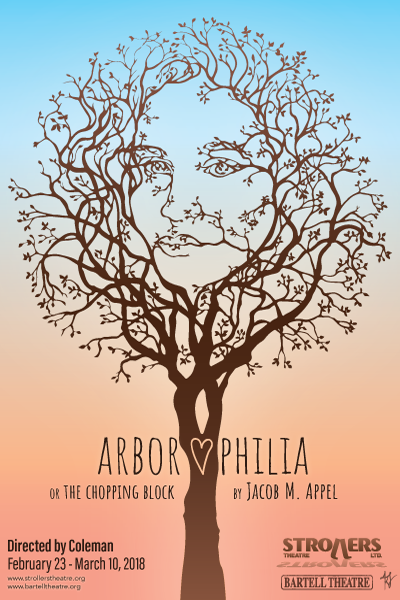 Strollers Theatre, LTD. is proud to continue its 61st season on February 23rd with Arborophilia, Or The Chopping Block By Jacob M. Appel
Judge Gwendolyn Gage's two daughters have both fallen in love, but neither relationship is exactly what the fifty-five-year-old divorcee had in mind. Her older daughter, Lily, has announced her intention to marry a Republican. Her younger daughter, Laurel, has developed a romantic infatuation with a poplar tree. If the matches are to succeed, both girls have their work cut out for them.
For dates/times/tickets/details for Arborophilia, please visit bartelltheatre.org/2018/arborophilia/.
For any questions/comments/concerns, please contact Benjamin Barlow at [email protected]
For additional information on our 61st season, please visit StrollersTheatre.org. Strollers Theatre has a Season Announcement video where each of our directors share their thoughts on the upcoming season. It is worth a view!
Dates:
Fri, Feb 23- 7:30pm
Sat, Feb 24 – 7:30pm
Sun, Feb 25 – 2:00pm
Thu, Mar 1 – 7:30pm
Fri, Mar 2 – 7:30pm
Sat, Mar 3 – 7:30pm
Wed, Mar 7 – 7:30pm
Thu, Mar 8 – 7:30pm
Fri, Mar 9 – 7:30pm
Sat, Mar 10 – 2:00pm
Location:
The Bartell Theatre
113 E Mifflin St
Madison, WI 53703
On the Evjue Stage
Contact:
Benjamin Barlow at [email protected] and (608) 354-7034
Bartell Theatre Box Office at (608) 661-9696
Tickets:
General Admission: $20
Discounted tickets for Veterans, Seniors, Students, and Strollers Membership: $15.
Website:
bartelltheatre.org/2018/arborophilia/