26th Annual CSA Open House
March 18 @ 11:00 am - 3:00 pm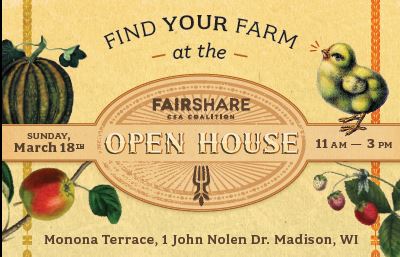 Join FairShare CSA Coalition for the 26th Annual CSA Open House!
Meet your local farmers from a variety of CSA farms to learn more about their farm, pick-up locations, on-farm events and 2018 sign-up information. Explore different share options such as veggies, meat, eggs and choose your own CSA share for this growing season while snacking on local food samples.
Free workshops throughout the event will help you learn how to make the most of your CSA experiences. This event will celebrate our FairShare CSA farms and inspire people to support a strong local food system. We hope to see you there!