Flourish with friends all weekend at the Madison Women's Expo!
Explore…hundreds of exhibitors focused on everything a gal desires, including unique pop-up boutiques, savory treats, services to enhance your life, places to visit and so much more!
Engage….at the American Family Insurance DreamBank Stage with local dynamic speakers who will inspire and entertain!
Experience…take a fitness class, stop by the Creativity Station for a make-and-take project, learn home decorating and beauty tips from local experts. With 30+ presentations throughout the weekend, there is a fun experience for everyone!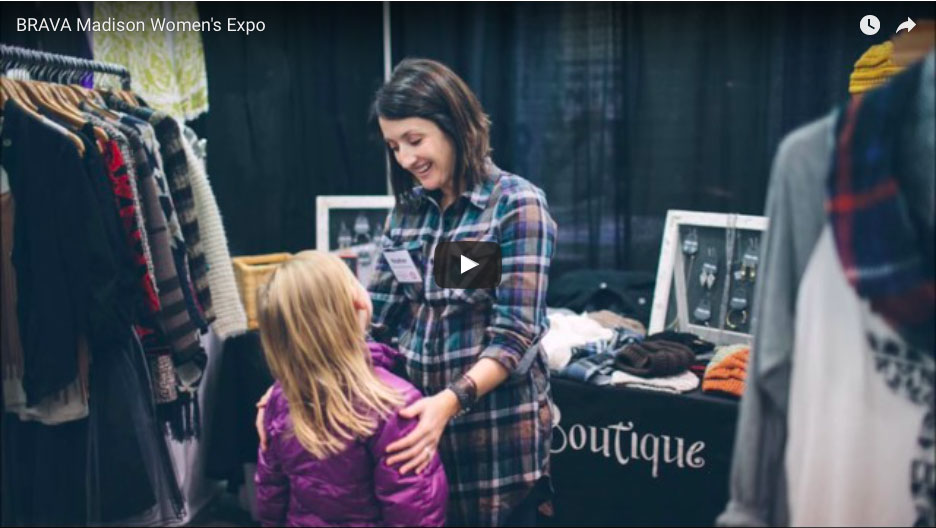 EXPLORE THE EXHIBITOR PAVILIONS
The Madison Women's Expo show floor is grouped in themed exhibitor pavilions with an all new pop-up stage in each pavilion, creating neighborhoods designed around lifestyle, home, food & fun.
THRIVE
Dedicated to exploring the many ways today's woman can infuse her life with passion and vitality while maintaining a happy, healthy balance. Here, she discovers possible avenues toward living life to the fullest with vendors and speakers covering financial security, beauty, continuing education, self-improvement, wellbeing and much more!
DWELL
All about your home, because that's where your heart is. You'll find exhibitors showcasing fun and functional ideas focused on home building, remodeling, gardening, decorating and more. This is the place for inside-out inspiration.
SAVOR
An interactive sensation for the taste buds where you can sample your way through the booths, discovering cooking tips and tricks, inspired recipes from the pros and sweet reasons to linger a little longer.
GO+DO
Explore new places to visit, be entertained, get creative and shop for one of a kind items!
ALL-NEW IN 2016 POP-UP STAGES!
30+ classes and demonstrations throughout the weekend
Enjoy engaging talks focusing on life goals and dreams from local female speakers like author Ann Imig from "Listen to Your Mother," Feng Shui expert Jayne Antonovich on "OM for Your Home," and author and speaker Ann Garvin with "Time Management is a Myth." Career coach Megan Watt will present "The Power of Persevering Through the Help of Others." BRAVA THRIVE presenter Sandy Eichel will perform with her band, "One Note and the Rhino." Listen and learn how these dreamers give inspiration, tools and support to bring their dreams to life.
Engage with make-up experts and hair professionals from the hottest area salons, find a new wardrobe in your own closet with local fashionista Krystal Marks, learn about the latest styles from the trendsetters themselves like Outlet at the Dells, and more!
Sponsored by Metcalfe's Market
Join Metcalfe's registered dietitian Lisa Grudzielanek as she shows you how to shop efficiently and select wholesome foods for you and your loved ones. Discover yoga with Dragonfly Hot Yoga studios, learn about the benefits of essential oils from Willy Street Coop, throw a punch with Canvas Club boxing and more healthy living activities!
Explore your creative side and create a hands-on take-away project or learn a new DIY skill! Lindsay Olson from Olson-Toon landscaping will demonstrate how to create a beautiful holiday piece for your home using succulent plants and unexpected containers. Our creative presenters will inspire you to finally give your pinned Pinterest projects a try!